In this article, you'll learn about Two-Way Texting and how to enable Two-Way Texting on your account to send text messages to your clients and receive text replies! With a dedicated SMS number for your business, clients can have a natural conversation with your business via mobile.
Types of Product Messages
Before we dive into Two way texting, it is essential to understand the type of messages within your account:
Transactional messages - these are product auto-generated messages that, by default, are being sent to your clients from a non-unique number. These messages contain booking confirmations, new leads, payment reminders, etc. These are set on your auto-client message settings.
Some transactional messages are also sent to staff members.
Marketing campaign messages are SMS messages sent from your marketing module via automated marketing or announcements. Marketing SMS are sent from a non-dedicated phone number and will not be sent from your designated business number. Therefore you will not receive replies to a marketing campaign.
Direct text messages

are standard peer-to-peer SMS texts where the business can use its account and mobile app to correspond with its clients.
Activate Two Way Texting
To start using direct text messages for texting with clients, you must first activate the setting in your account.
Navigate to Settings > Auto Client Messages and SMS.
Switch to the SMS Settings tab.
Enable the two-way texting radio button and click on Get two-way texting.
Your account will immediately be assigned a phone number. This is the dedicated SMS number that your messages will be sent to and from.


Click Save at the top of the page to save your changes.
Verification Process (For US & Canada)
All US & Canada TFN (Toll-free numbers) numbers are required to be "verified" to ensure message reliability. Verified numbers message content has been reviewed and does not fall under the disallowed content policy. Un-verified numbers may be filtered and blocked, which leads to delivery reliability risk.
Activating your Two way texting initiates the verification process with the couriers to approve your business details, type, and new number.
The verification process may take up to Three weeks.
Important: As long as your number is not verified, all transactional messages will continue being sent from a system number. You can still send and receive free text messages; however, as long as your number is not verified, we cannot guarantee that messages will be delivered.
Once your new number is verified, you'll get a notification and an email.
Texting your Clients
Once activated, you can freely send text messages to clients via any communication method you would typically use.
One of the easiest ways to initiate a new text message to a client is from your Quick Actions menu.
Initiate a new message from Quick actions > New message.
Select Text message as your channel (you will only be able to select this option if the client has a phone number).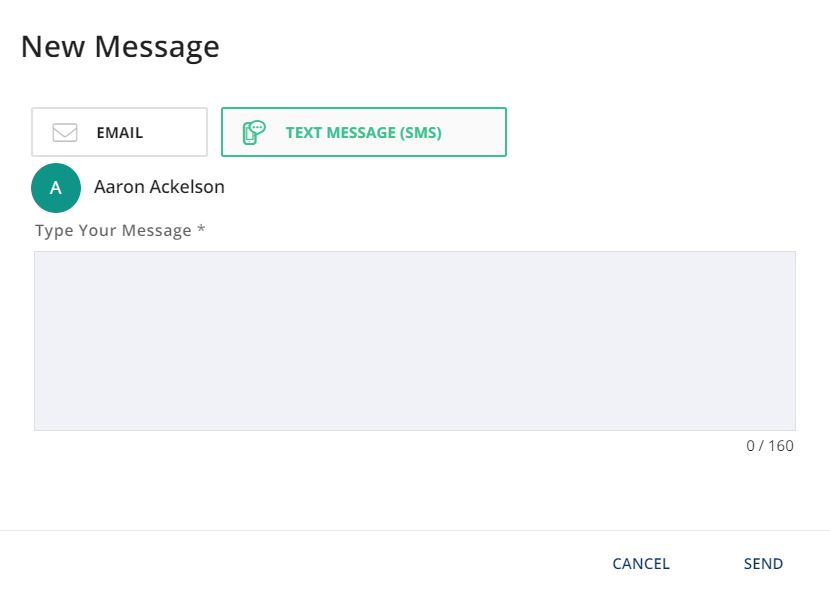 Type in your message and send it.
You may also message clients right from the client card. Just click on the icon next to the input box to choose between sending your message via text or email.

Thanks to the handy SMS indicator under the message in the conversation, you can easily tell which messages were sent or received via SMS.

Your client will receive the text message from your dedicated SMS number.
Note: Sending a text message will deduct from your SMS balance. You can send up to 550 characters. One text message is 160 characters. If you send a message larger than 160 characters (the standard size of one text message), you will be charged for the corresponding number of text messages. For example, 320 characters count as two text messages.
Receiving Text Messages from Clients
You will be able to receive text message responses to your transactional messages. You won't be able to receive a response for a marketing campaign message.
Important: businesses located in the US or Canada will receive text messages from clients only after the verification process is completed.
If you get a new text message from a client, it will appear in your Inbox and the client card Conversation tab. You will also get a notification on the mobile phone app if enabled.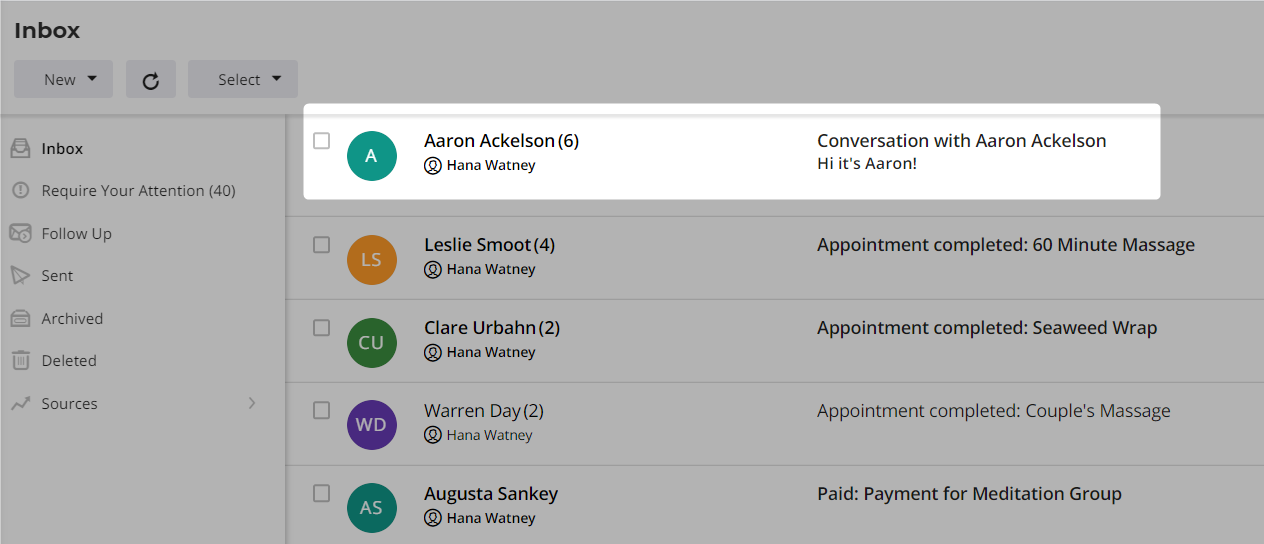 Tip: Check the Require your attention folder of the Inbox to see new text messages and other items that need your follow-up.
Note: You are not charged for SMS messages received from clients.
Lead Generation from SMS
A new client is created every time you receive a message from a phone number that isn't associated with any clients in your Clients list. This is a great way to generate leads - invite prospective clients to text your dedicated SMS number with a query or if they would like to hear more.
Follow up with new leads by messaging or targeting them with marketing campaigns.
Note: A new client card is also created if an existing client text you from a new number or if they did not previously have a number associated with their client card. In this case, merge the two clients to retain all contact info and messages.
Deactivate Two Way Texting
To deactivate two-way texting, return to your SMS settings:
Navigate to Settings > Auto Client Messages and SMS.
Switch to the SMS Settings tab.
Select one of the other options: either enable the 'do not reply auto message' or 'no auto reply'.
Save your changes.
After deactivating, you can no longer receive text messages from your clients.
Note: Your number will be saved for three months after deactivating your two-way texting. If you reactivate after three months, we cannot guarantee that you will receive the same phone number as before.
FAQs
Q: I don't see the two-way texting option in my account. What do I do?
A: If you don't see two-way texting on your SMS settings tab under messages settings, your plan does not include it. Contact a product representative to upgrade your plan.
Q: Can I connect my cell phone or landline number to the Two way texting number:
A: Currently, we do not support adding your cell phone or landline as the 2-way SMS number.
Q: Will my number have a local area code?
A: The number provided will be according to your business country code (Settings→ business info)
Q: Am I charged for texts that I receive from clients?
A: No - only sending a text message will deduct from your balance.