You may have a long list of clients, or you may have many different types of clients, of varying ages, locations or business needs.
There are two ways to segment your clients for easy organization & sorting, messaging, marketing, and more:
1. Tags: adding tags to an individual clients or to a group of clients
2. Client Status Automation: categorizing your clients based on their relationship with your business: (a) Lead; (b) Customer; (c) VIP
Adding tags
Add tags to your clients to make searching, texting, or emailing your clients or client groups a breeze.
Adding tags to individual clients
Luckily, all "tagging" means is adding whichever words you want to label your client with.
Go to your client's Client Card main page, and under Tags type in the words you want to use, for example: "new," "important," "referral", or more specific tags such as insurance type, allergies, etc., and hit <Enter>.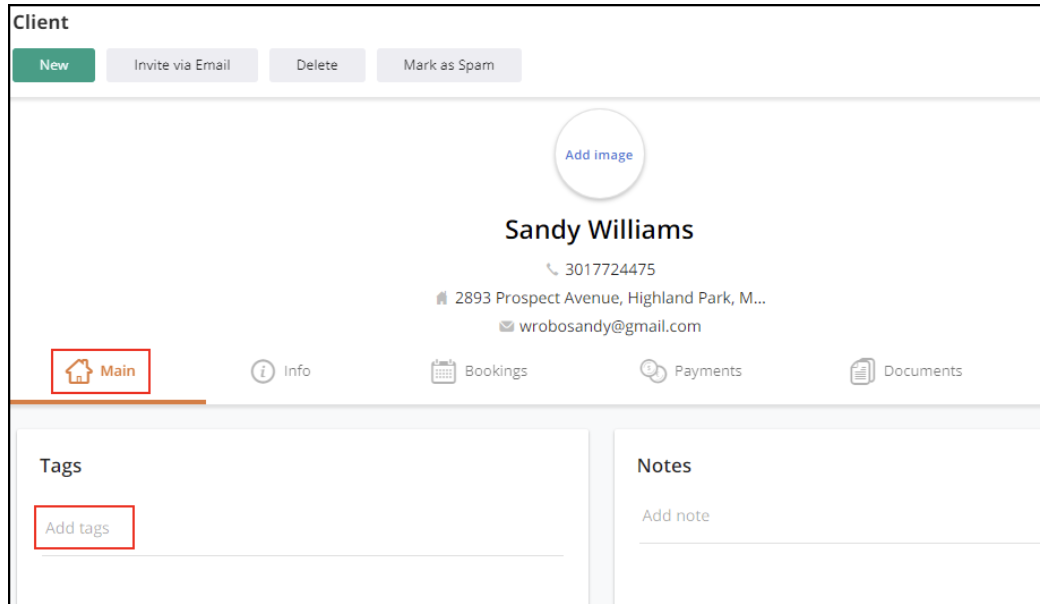 Adding tags to a group of clients
Easily create a client list by adding the same tag to multiple clients.
Step 1: Go to your Clients in your dashboard to open your client list.
Step 2: Select all the clients you want to tag
Step 3: Click on Add tags button from the menu above.
Now that you have your tags, you can use the Filter Clients function to search for specific clients, and to message them with important updates, promotions, and so on.
Simply check the Tags checkbox from your filter menu on the right hand side of your Clients list.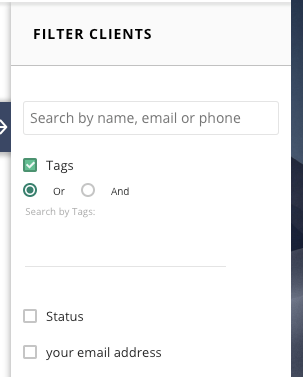 Note:
Another way to add tags is when i
mporting clients
from a spreadsheet. All you need to do is add a Tags column to your spreadsheet and fill it with the tags you need. The tags will be imported along with your clients.

To learn more visit the

adding a list of clients

section of the

Adding Clients & Contacts

article.
Tip:
You can also add tags based on your marketing material from
Marketing > Delivery History
in your main menu. From your
Delivery History
page you can see who "viewed" or "clicked" on your marketing material. These are clients you may want to tag in order to improve your marketing efforts. For example by tagging them as "interested in discounts" and sending them similar promotions in the future.

To learn more about how to track your marketing results, go to the

Delivery History

section of the

Tracking Marketing Results

article.
Client status automation
Categorize your clients based on their relationship with your business.
This is an automatic feature which you can customize or change as needed.
There are three client statuses which get automatically assigned to clients according to the following rules:
Lead

: A client who has not yet had business interactions with you (i.e., no payment interactions, appointments, messages, etc.).

Customer

: A client who has had at least one business interaction with you (i.e., the client attended at least one appointment, event, or has made at least one payment interaction).

VIP

: A client who is especially valuable to your business.
Note:
Clients who have booked appointments are considered leads until the appointment has been completed. However if a client does not show up to an appointment ("no show"), or if you cancel or refund a payment, their client status remains
Customer
. You can always revert the status back to
Lead
manually if you wish from your
Settings > Client Card
.
Customizing client status automation
Here's how you can change the default settings discussed above:
Step 1: Go to Settings > Client Card
Step 2: Click on the Client Status Automation tab
Step 3: You can disable the automatic change from Lead to Customer
Step 4: You can disable any of the rules for automation by unchecking the boxes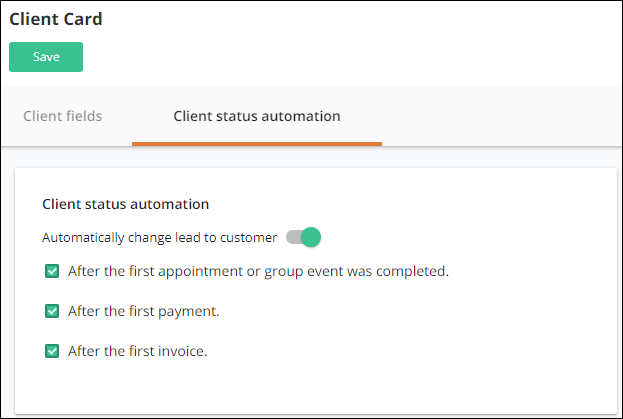 Step 5: Click Save to save your changes
Manually updating a client's status
Regardless of how you configure your Client Status Automation settings, you can always update the status of individual clients manually from an individual Client Card. You can also select multiple clients and change their status at once.
Just follow these steps:
Step 1: Open an individual Client Card from your Clients list.
Step 2: Change the status from the Card's Main tab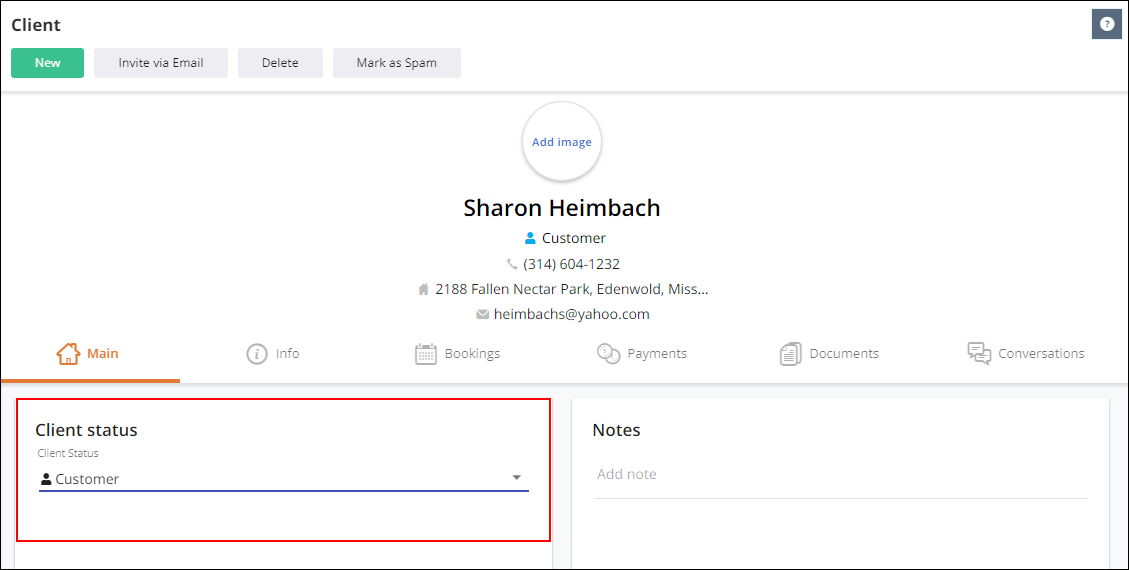 Here's how you can update the status for a group of clients:
Step 1: Open the Clients menu. If desired, filter the Clients List according to a status.
Step 2: Select the checkboxes for the clients whose statuses you want to change.
Step 3: At the top of the page, click Change status.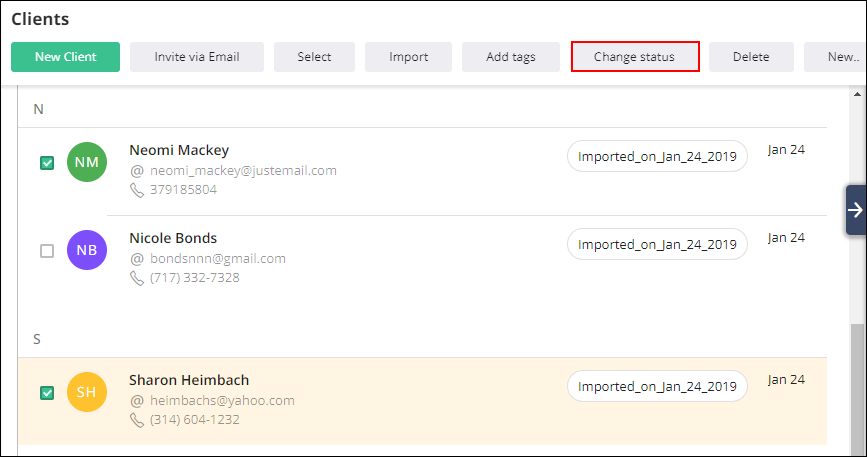 Step 4: A window will open that allows you to choose a new status. Select the desired status and click Save.
Once you've added Tags and managed your Client Status, you can easily Filter Clients to target your business communications and efforts around specific client groups, needs or interests.