In this article, you'll learn how to create, promote, and sell a bundle of your services and products using packages.

A package is a convenient bundle of services your clients can purchase and apply toward future bookings without having to pay online each time - they can buy 10 bookings for example, all in one go and book their future sessions at their own pace. Packages are a great way to drive repeat business, and you can even offer special, discounted rates to encourage more bookings and purchases.
Creating a Package
Step 1: Start in your account and navigate to Settings > Coupons and Packages.
Step 2: Switch to the Packages tab and click on Add Package to start building your package.
Step 3: On the package builder page, customize the following:
Package Info: Basic information like the package name and how long the package is valid for use.
Package Services: Choose the bundle of services that the package will be valid for.

Price: Set a price for your package.
Step 4: Check the Package can be purchased online checkbox to enable clients to purchase it from your service menu.
Note: If you do not have this option enabled, you can still add packages to clients on a case-by-case basis in the client card.
Promoting your Packages
Promote your packages on your online scheduler so that your clients know that they can avail a special offer when they go to schedule.
Important: Ensure your packages are set to Package can be purchased online to be visible in your online packages menu!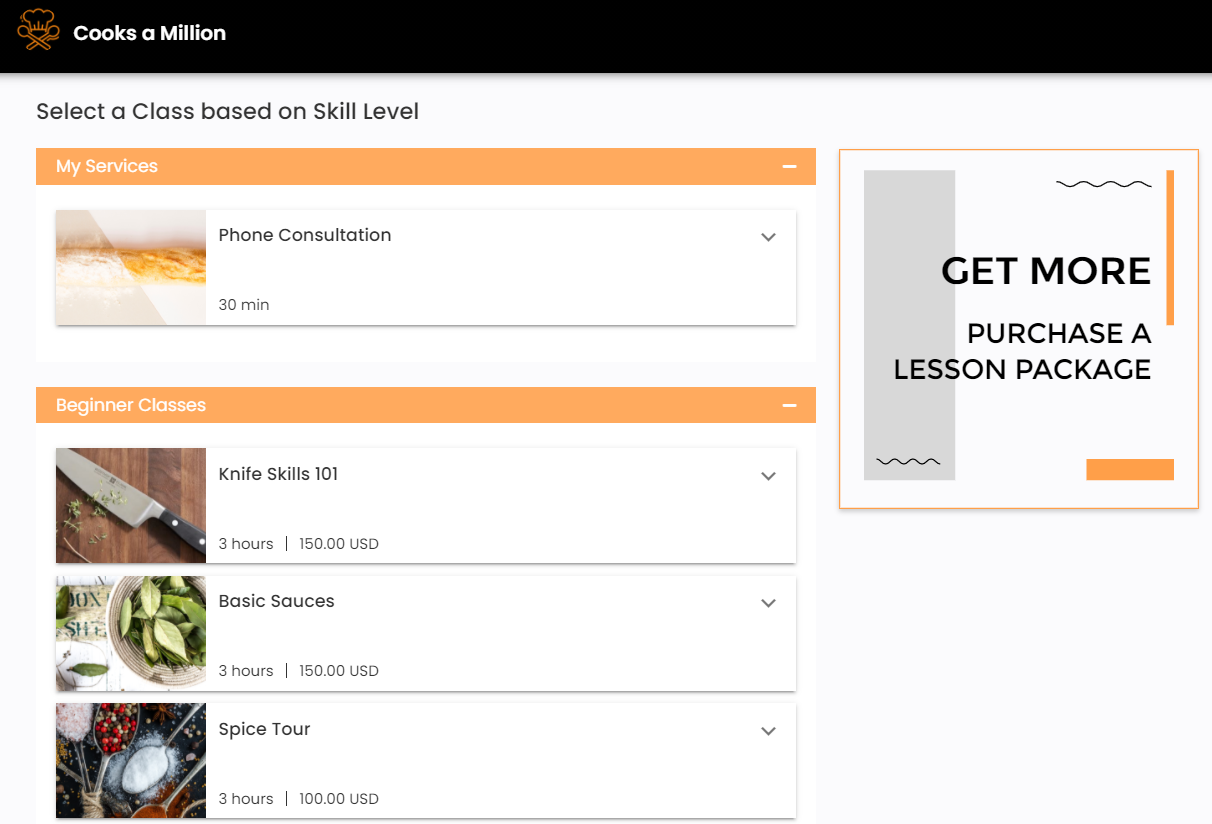 Step 1: Navigate to Settings > Online Booking Options
Step 2: Scroll to the Display Options and select a package display option. You can between a link to your packages menu or a clickable banner.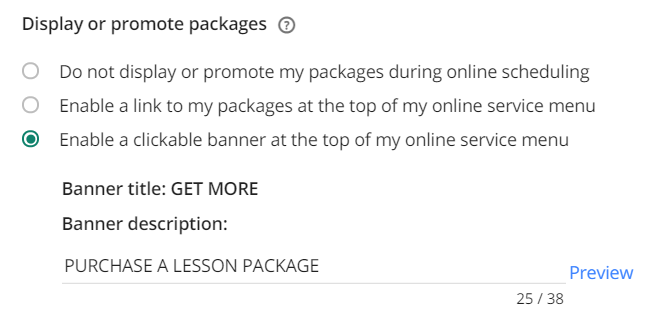 Applying a Package to a Booking
Your client will be able to use their package the next time they book online.
Once your client has an eligible package, you can also 'redeem' that package when you set an appointment with that client on the calendar.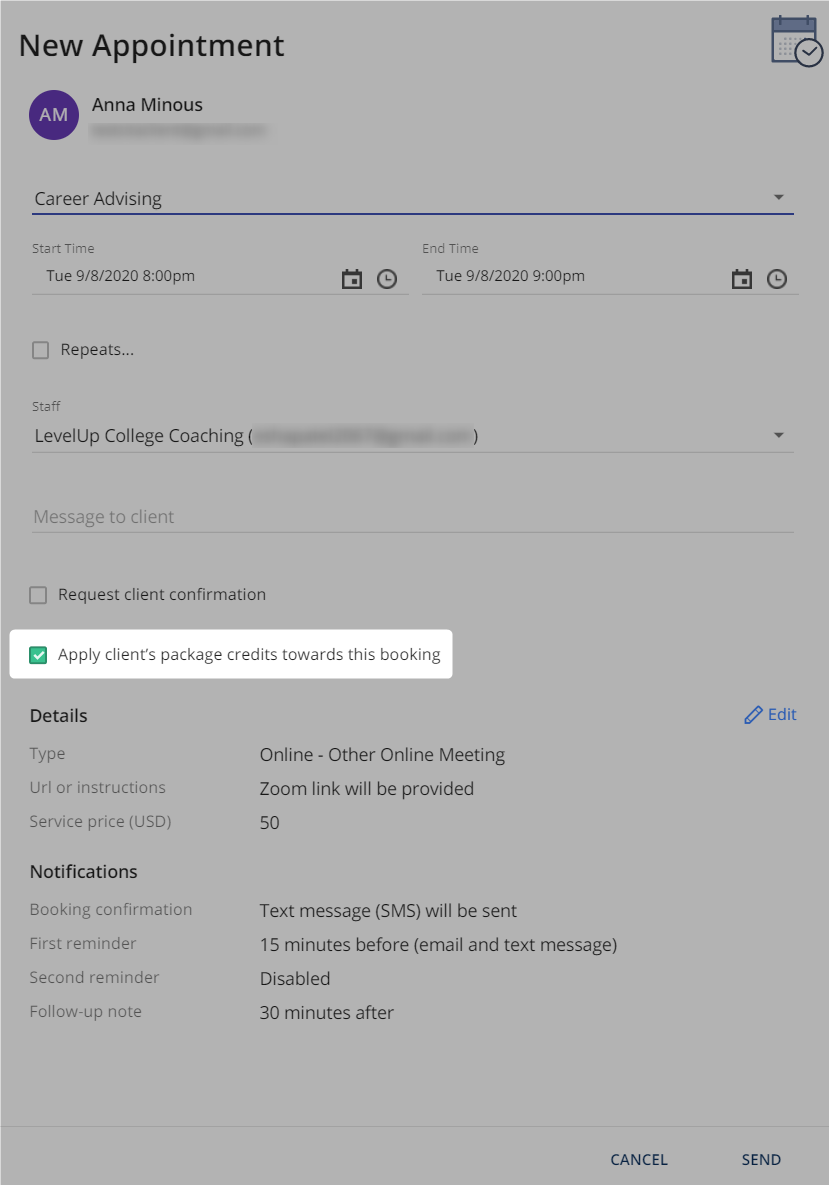 Tracking Package Use
You can find out how many of your bookings were made with packages - Open the Payments menu and select Billing and Invoicing.
On the right side of the page, under the filter options, select Packages from the Type dropdown.
Client Side Experience
On the Client Portal, your clients can purchase and redeem their packages or view their package credits.
Purchasing and managing packages
To purchase a package from the client portal, clients will click on "Purchase Package' or use a direct link generated and sent by the business. On the package page, clients can see what the package includes and its price (and the discount).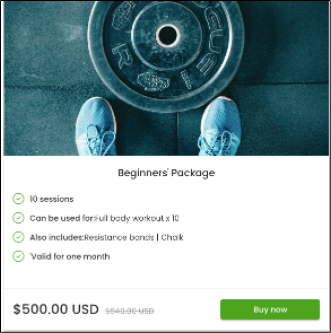 Clicking on 'Packages' or 'package credits' under the main menu will show your clients their valid packages and remaining credits. They will also be able to view previous packages and re-purchase them.
Important: Your client must be logged into the client portal to view/redeem their credits.

Booking with package credit
When a client has a package with the credit, he can book directly from the standard service menu. Once a booking is confirmed, the package credit will update accordingly.

Clients can access the booking form packages flow using a direct link generated and sent by email upon purchasing the package. The business can re-share the direct link from the back office package page.

Clients can redeem credits by scheduling directly from the client portal packages page.
Note: When a client has valid credits on his package, the client experience won't include the service's price and payment flow.
Important: To redeem a package at checkout, clients must book the specific service mentioned in the package they purchased